Posts Tagged 'd'Histoire Naturelle'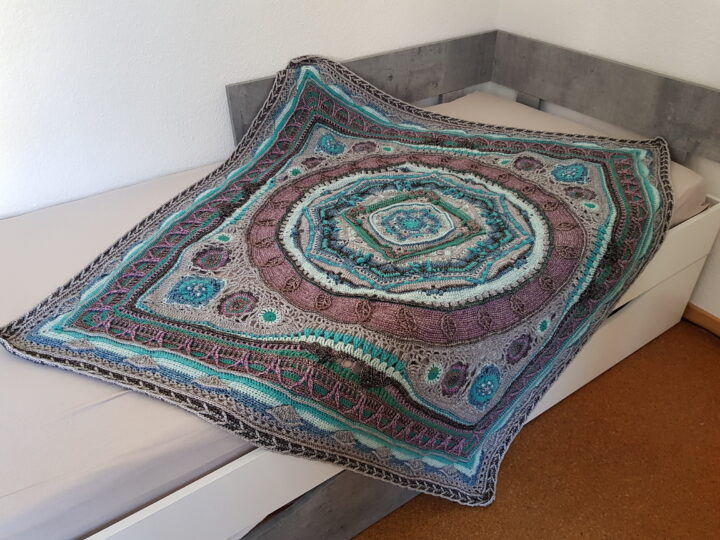 Last year, I got the yarn for the Scheepjes CAL 2020 for my birthday. I was not sure how long it would take me to do the project as it was the first time I intendedly did such a big project (apart from the first cover, but there I just started and wasn't even sure I wanted to finish it, and it did take me a few years then). The thing I doubted most was if it wasn't too complicated for me. And I was right in this. It's not that I couldn't do it (but I sure have to admit I grumbled more than a few times and wracked my brains where I did that f… mistake) but I do crocheting in the evenings when I am usually tired and not up to complicated patterns where you have to count continuously. I like patterns I know by heart within a few rows and then just do it. But with a lot of counting, unravelling, studying the charts and descriptions and most of all looking at the great video provided for the CAL (by itsallinanutshell.com), I finally did it. And I'm really proud having accomplished it!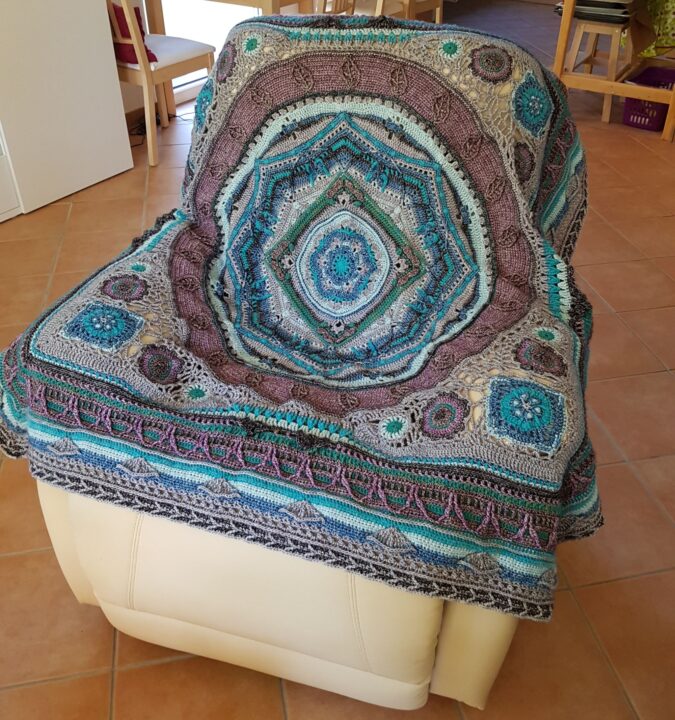 The CAL is designed by Christina Hadderingh from A Spoonful of Yarn. It is inspired by the Muséum National d'Histoire Naturelle (Museum of Natural History) in Paris as it is described in the book All The Light We Cannot See by Anthony Doerr. I didn't read the book and I haven't been at the museum, but I can definitely imagine it by crocheting parts of it. I rather think that's a nice idea, even though some of it was really tricky.
The CAL starts in the middle with the Jardin des Plantes, the botanical garden of the museum. A circular shape full of flowers is made and then transformed into a square framed by majestic hedges.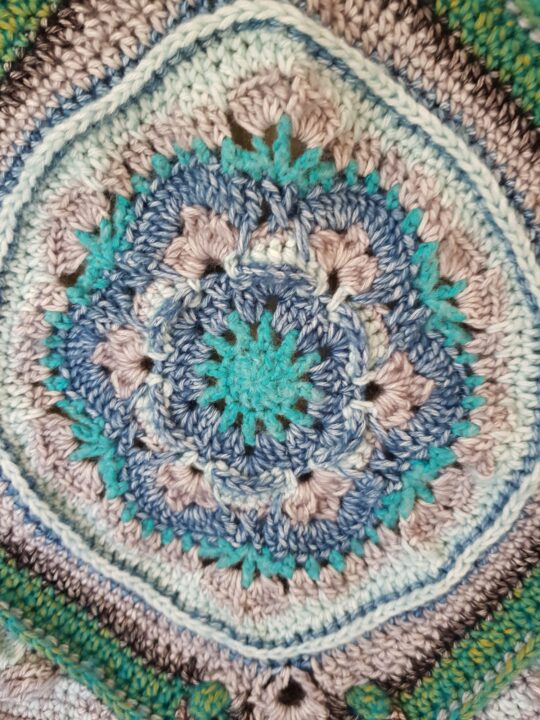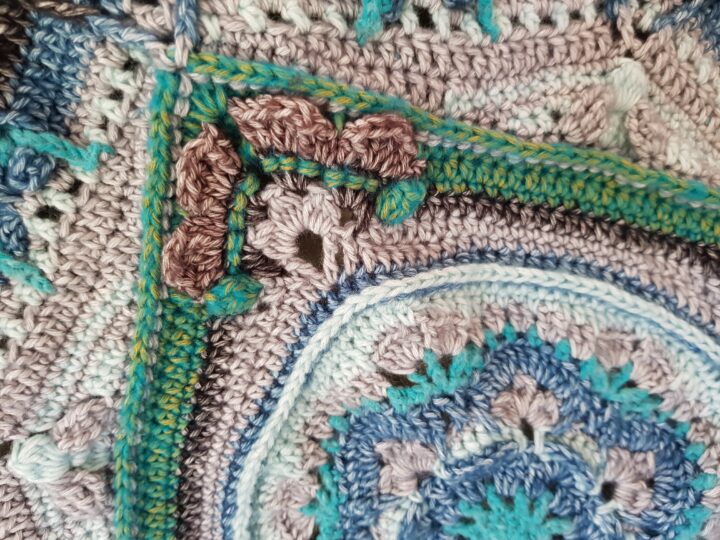 The second part of the CAL portrayes the Entomology department represented by an octagon with bees and butterflies.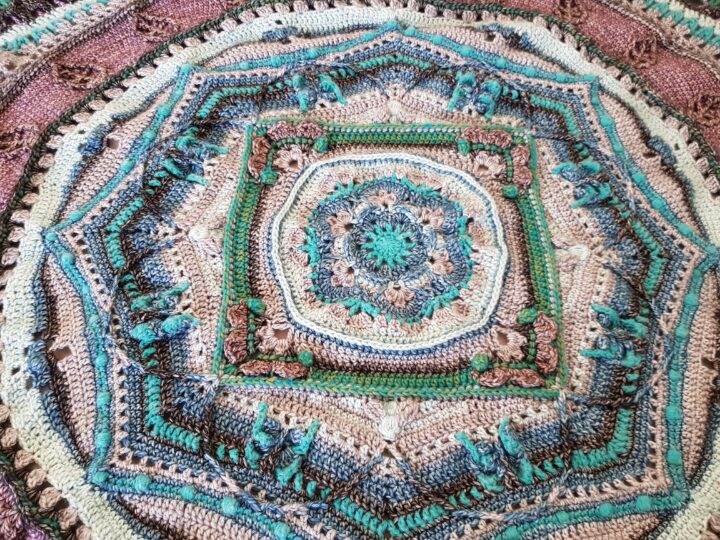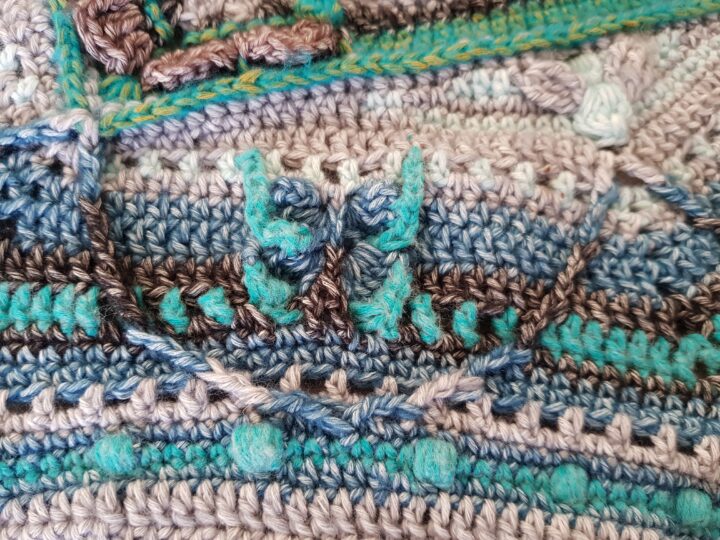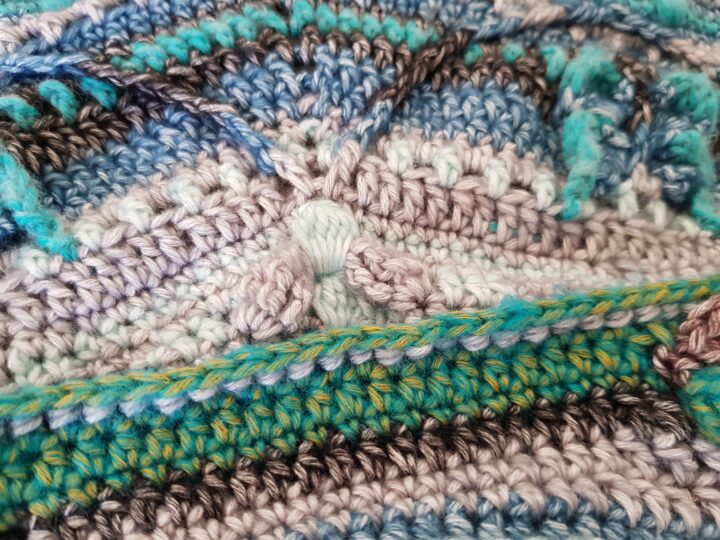 The next part is a symbol of the Galerie de Botanique (the botanical gallery) with floral patterns and moving the picture back to a circle.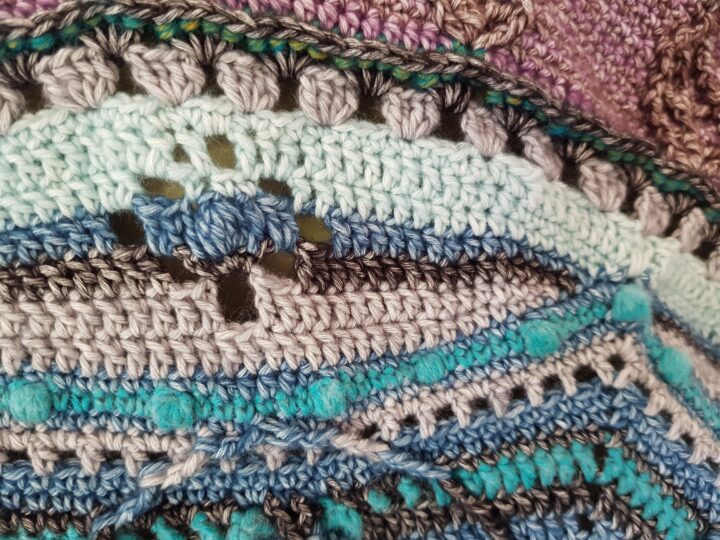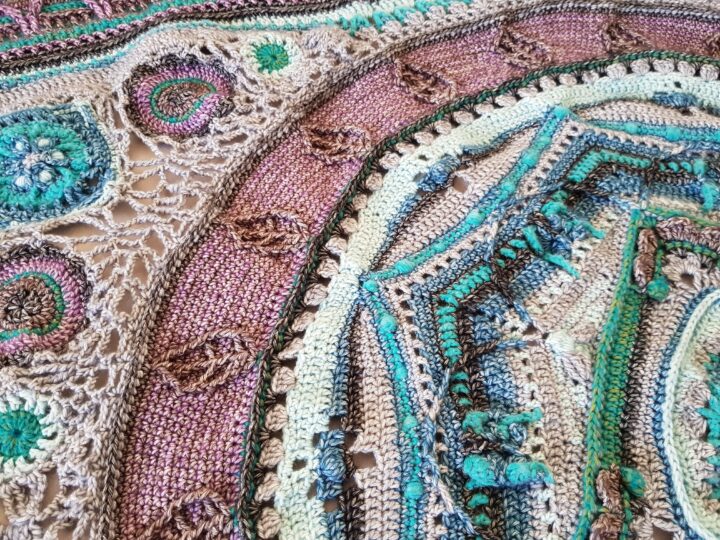 In part 4, the Galerie de Minéralogie et Géologie is visited. Here, 3 different motifs inspired by different crystals and gemstones (Quartz, Agate, Geode) are first made and than laced and attached to the blanket to receive again a square.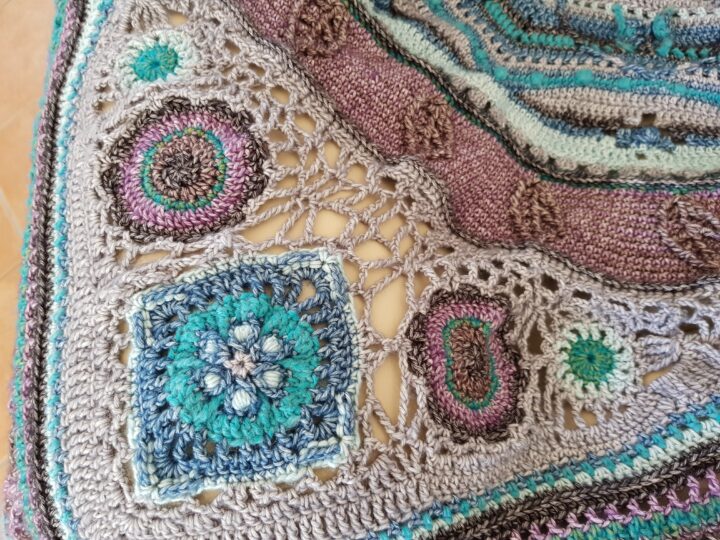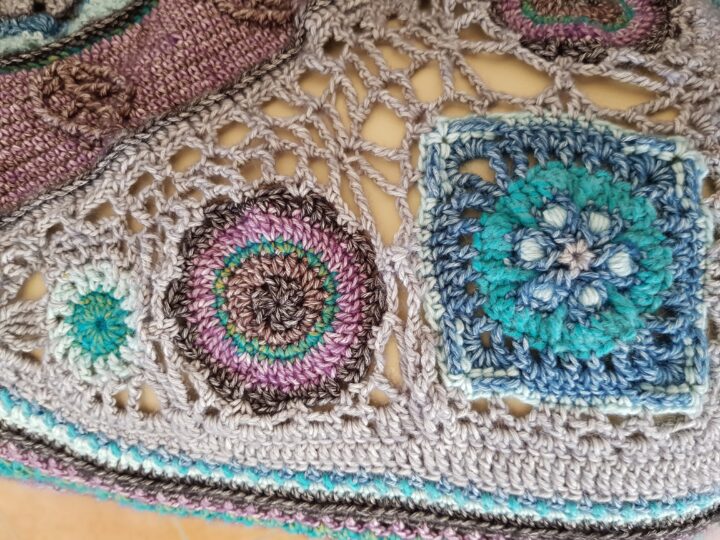 In the second but last part we visit the Grande Galerie de l'Évolution. Pictures of it show a giant open space with a stunning display of big animals looking really tiny in it. It is turned into arcs and galleries with elephants shown beneath in this design.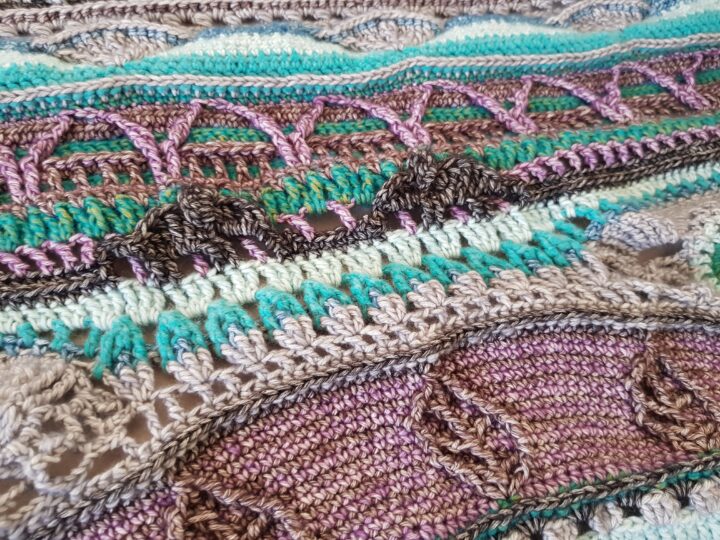 The last part shows the Galerie de Paléontologie, a department full of skeletons of old creatures and fossils from thousands of years ago. It is represented by shells and patterns which remind me of dislocations in the mantle of the earth.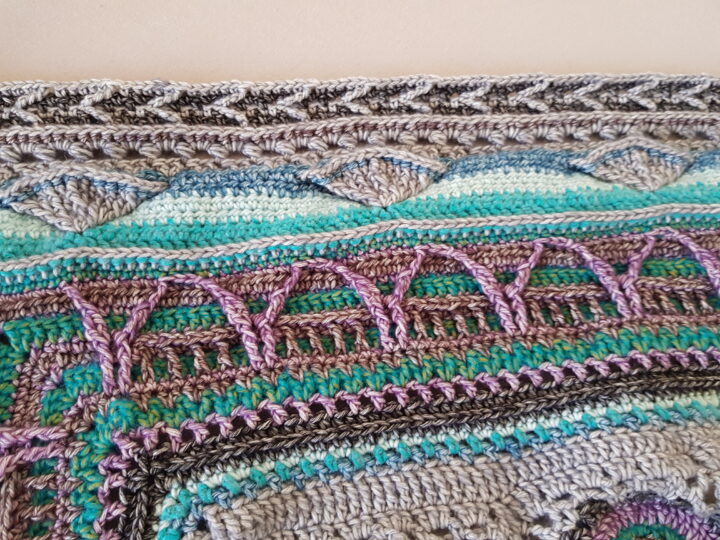 The CAL is crocheted with Scheepjes Stone Washed & River Washed yarn. I used the entomology kit but I didn`t like the colour Enstatite so I changed it to Deep Amethyst. The kit included 38 balls from which I have 4 whole balls left plus a couple of smaller amounts.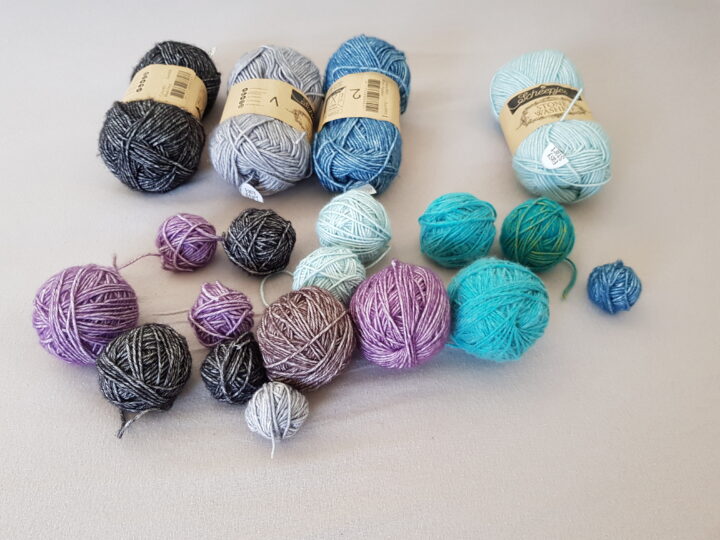 For this project, for the first time I kept the threads I cut after sewing. I called them Geduldsfäden (literally "patience threads", meaning you are at the end of your tether if those threads rip).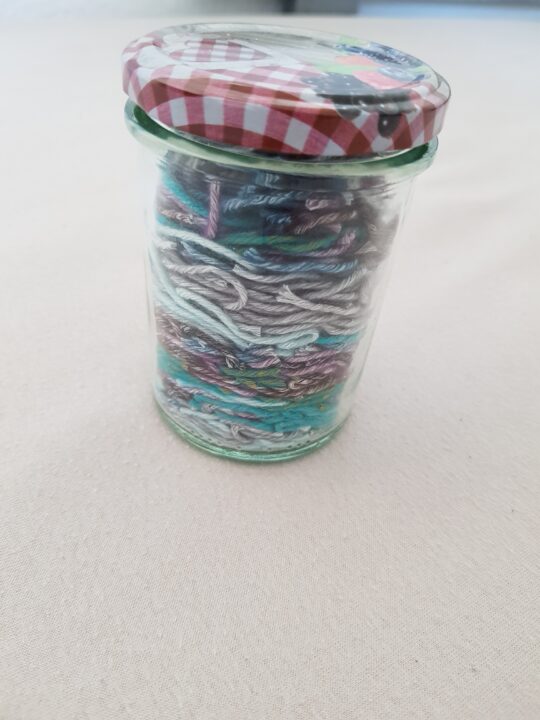 The design can be found on the Scheepjes website free of charge.