This pattern is from ravelry and called Tinta. Designer is Heidemarie Kaiser. I used a hand-dyed yarn from Hegdehog Skinny Singles in maincolour grey. Name of colour is Salty Tales and the contrast yarn in ton-sur-ton blue, but I did not know the name of the colour yet.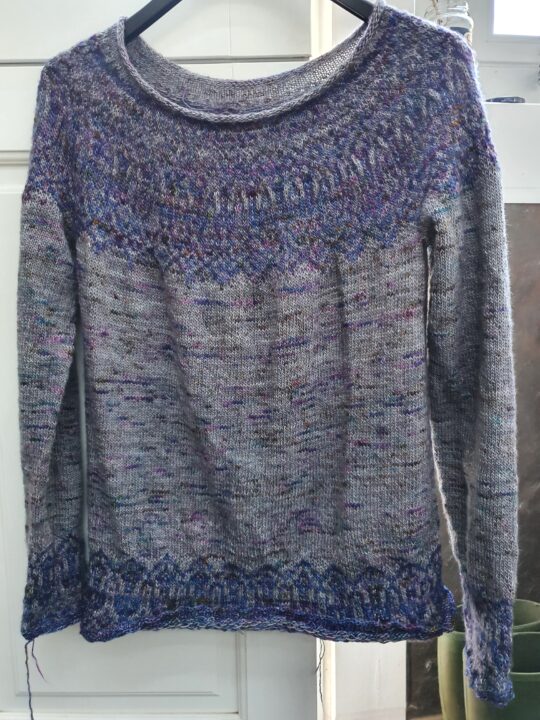 It was a pleasure to knit the same pattern again. But I used another yarn from Dibadu named Geheimer Garten and a rest of skein for the contrast for the yoke.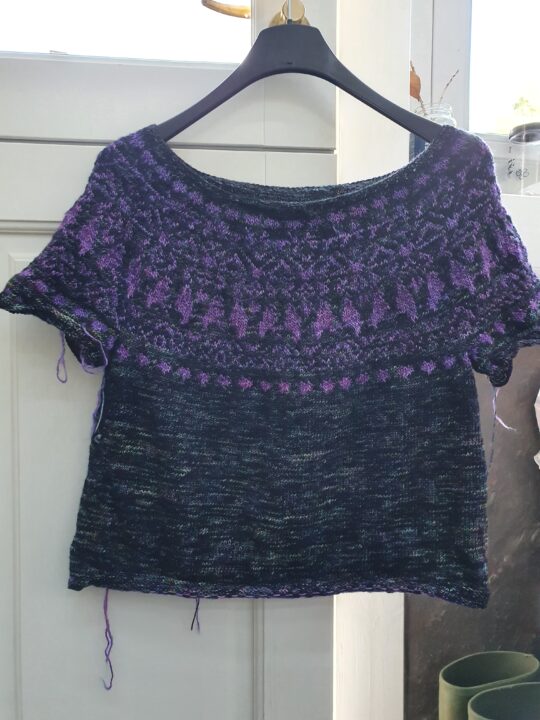 This lovebirds sweater pattern is from Kate Oates over Ravelry Plattform. Work in rounds. I used another yarn from MadiTosh hand dyed yarns. The Main color named Dried but not forgotten-564-0 (two skeins). The contrast color is a dark purple but I lost the banner with the exactly name of the color / nearly 1 skein. I knitted Size M/L using circular needles for the neckline no.3 and no. 3,25 for the yoke and the body. At the back I also have finished with short rows, to get the sweater a little bit longer at the backside. It was a great pleasure to work this summer sweater. It also can be done with long sleeves. Please try it yourself.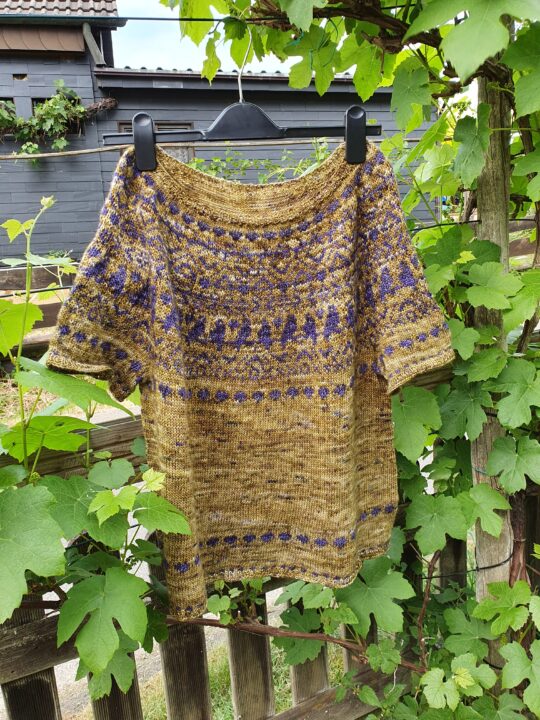 BUTTERFLY Happy Easter
This Pattern is named Butterfly-Papillon from Marinja. It is possible to use different fingering weight yarn. My Butterfly Coloryarn is from Schoppel Zauberball Color "Der Lenz ist da" (you need 1 and a half skein nearly 762 yds/ 700 meter) , the ContrastColor is a yarn from Filcolana named Arwetta color Denim Blue (you need 2 skeins to 420 yards). Needeles, round size 40″" or larger/ 3,5 mm. At the first look it seems to be very difficult, but it is not so difficult as it looks like.