This pattern is from ravelry and called Tinta. Designer is Heidemarie Kaiser. I used a hand-dyed yarn from Hegdehog Skinny Singles in maincolour grey. Name of colour is Salty Tales and the contrast yarn in ton-sur-ton blue, but I did not know the name of the colour yet.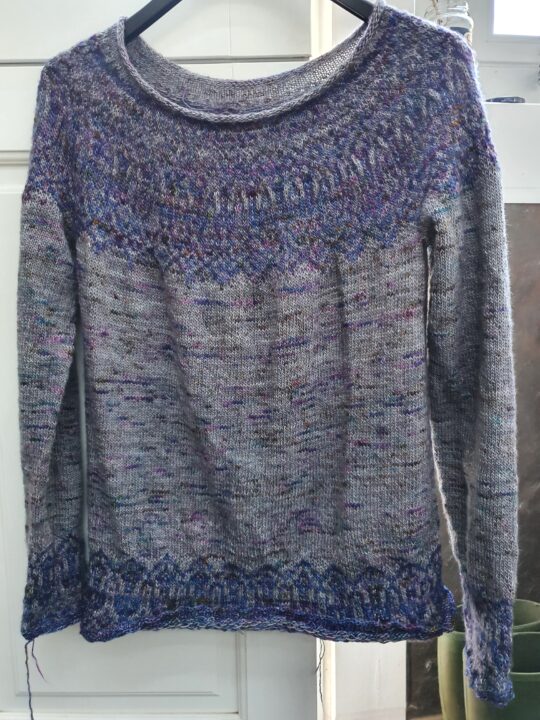 This lovebirds sweater pattern is from Kate Oates over Ravelry Plattform. Work in rounds. I used another yarn from MadiTosh hand dyed yarns. The Main color named Dried but not forgotten-564-0 (two skeins). The contrast color is a dark purple but I lost the banner with the exactly name of the color / nearly 1 skein. I knitted Size M/L using circular needles for the neckline no.3 and no. 3,25 for the yoke and the body. At the back I also have finished with short rows, to get the sweater a little bit longer at the backside. It was a great pleasure to work this summer sweater. It also can be done with long sleeves. Please try it yourself.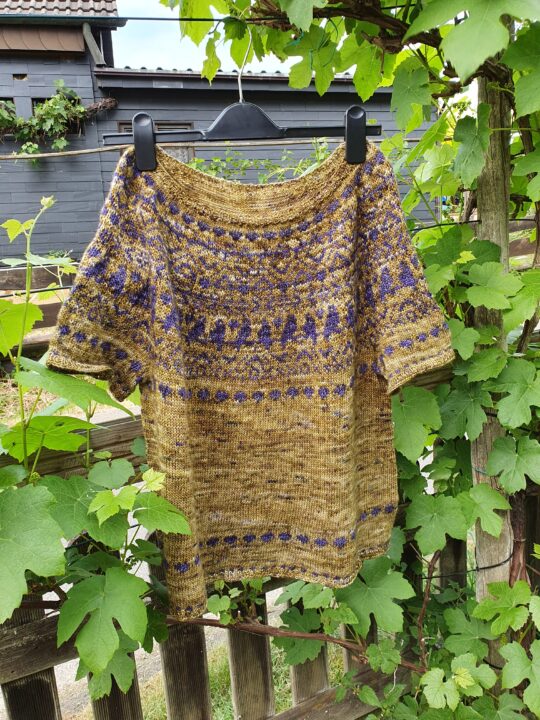 It always takes me too long to finish my projects of one season but leaving them unfinished can lead to forgotten projects, wich is even worse!
This pullover is based on three stitch patterns that fit best the yarns I used (Mia from Lana Grossa and a mix of two rest-yarns for the sleeves).
The front and back parts start with the "parasol" pattern (which is called "Bärentatzen" in German). For the sleeves – where I had to use a combination of two leftovers but it turned out better that way – I wanted to use a regular and ligth stitch pattern; I chose "flame chevron" ("Ajourgeflecht" in German). For the cowl I needed a lace stitch that forms stripes but does not snuffle together. I found that this vine lace pattern suited the most.
All these patterns can be found at The Walker Treasury Project , a wonderful basis for a self designed work of art 🙂
BUTTERFLY Happy Easter
This Pattern is named Butterfly-Papillon from Marinja. It is possible to use different fingering weight yarn. My Butterfly Coloryarn is from Schoppel Zauberball Color "Der Lenz ist da" (you need 1 and a half skein nearly 762 yds/ 700 meter) , the ContrastColor is a yarn from Filcolana named Arwetta color Denim Blue (you need 2 skeins to 420 yards). Needeles, round size 40″" or larger/ 3,5 mm. At the first look it seems to be very difficult, but it is not so difficult as it looks like.
Ok, it's not exactly the right time for a warm cowl… but I wanted to make one like this for long and I thought of this, when I found this yarn in my #tobeused collection lately!
I used Chiara (Lana Grossa) in a brioche stitch and enjoyed much working on it, as I found the stitch perfectly matching for this yarn!